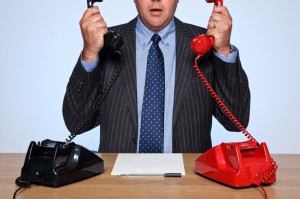 If you have customers calling you on your phone then here is a list of some handy tools out there that are available for your company. It doesn't matter if you are a one man band or a large corporation, these are affordable services that do not require any kit and will make your life a lot easier.
1)      IVR (Interactive Voice Response) – The recorded auto attendant doesn't have to be dreaded. Let the IVR do all the hard work and send callers to the correct department which will free up your customers and your time. Just don't make your menu choices too long and convoluted.
2)      Call queuing – Don't miss those all important customer calls. The worst thing a caller can get is an engaged tone. Queue your customer calls and keep them on the line. Just make sure you have enough staff to answer as people don't want to queue for too long. That's bad!
3)      Fax to email – Be greener and cleaner. Don't waste paper. It's far more secure way of sending a fax and you can save the files electronically.
4)      Time of day routing – If you're open Mon to Fri 9am to 5pm then route all out of hours calls to another call centre, voicemail or even to your mobile. Stay in touch with your customer calls.
5)      Call whisper – we love this service. Record an audio prompt that only you hear which alerts you that it's a call through your business number. Great if you use your personal mobile for business calls.
These are just a few virtual tools you can employ on your customer phone calls which are easy to set up and control with our great online management portal. Be in touch with your calls, your customers and your staff. To demo any of these services and see how you can get your business connected speak to Direct Numbers today.