From the 1st of July 2015, OFCOM will be making changes to the way that service numbers charged. Service numbers are ones beginning 08, 09 or 118, so if you are using one of these numbers then the following information is very important.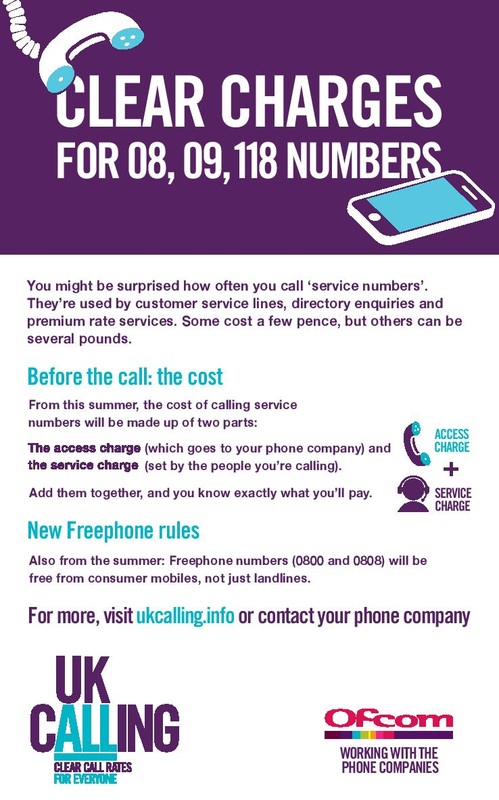 The calls will now be charged to the caller in two parts:
Access Charge:
This part of the call is charged by the caller's phone company, so for example Vodafone, EE, O2 etc. according to their contract rates.
Service Charge:
This part of the call is charged by the organisation offering the service, so for example if you have a number through Direct Numbers, our network provider is KCom and they will be charging this part of the call.
What This Means For You:
If you have any of these number prefixes with us, it means that you will now have to review all of your marketing materials and advertising where your number is shown to reflect the new charging in order to make it clear to the customers. You must ensure that your service charge is clearly displayed everywhere that you advertise or promote that number. The service charge should be prominent and in close proximity to the number itself. The recommended form of wording is as follows:
"Calls cost Xp (or Xp per minute) plus your company's access charge".
Our Numbers Starting: New Retail Service Charge Price Point (incl VAT) from 1st July 2015

The good news for consumers –
Freephone number (0800 & 0808) will be FREE from mobiles as well as landlines from this date as well.
Full information on the changes, including what advertising needs to be reviewed, and well as a list of FAQ's is available through this website: http://www.ukcalling.info/
There has never been a better time to start thinking about switching your 084 or 087 business number to a customer friendly 03, 01 or 02 number.
Speak to Direct Numbers to see how we can help you switch your number over.