As of 1st February 2018 your number management portal is changing.
What are the key changes for the new look portal?
Menu navigation has changed: when you first login, the landing page is a basic dashboard of real-time statistics for your account.
Navigation has been split into 3 distinct areas, replacing the existing tabular options:
There are now 3 main menu options which are touch screen friendly:

Personal User menu – this is where you can manage your own user settings and log out of the portal: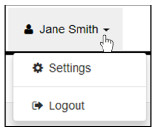 Dashboard is where you will be able to view and manage your real-time statistic dashboards once the development is complete – for the interim, a default basic dashboard is available.
Home is where you can access the management functions for Numbers and Accounts along with the Pulse reporting engine and new direct access to the Service Manager call plan management interface, Payphone Barring, Voicemail and Service Number Groups screens – previously navigation to these areas was through the Numbers screen: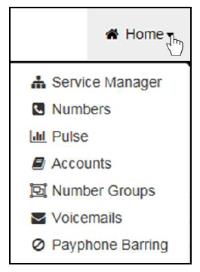 All these menus are touch screen friendly; drop-downs can be accessed either by a mouse click or finger press.
The process of updating/maintaining your number remains the same.
Please don't hesitate to call us on 0330 333 8755 or email us at info@directnumbers.co.uk if you have any questions or need help navigating the new layout.