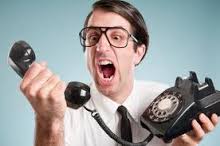 The Telephone Preference Service is a free opt out service that allows consumers to officially register their choice not be contacted by unsolicited sales or marketing calls.  In order for this to work, the telemarketing companies have to apply for a license to be able to screen their data.  This should stop the company making calls to registered numbers, and avoid large fines from the governing bodies.
The TPS ask registered consumers to allow up to 28 days for all "nuisance" calls to stop, as it then becomes a legal requirement for establishments not call these numbers, but as we have all probably experienced, sometimes there are instances where this is not the case.  The data a particular business owns could be much older than the date of the consumers registration, and coupled with a poor screening process, some of these calls are allowed to get through.
Luckily, the most efficient screening practice is now available to telemarketing companies.  Our NFON powered VoIP telephone system can be tailored to monitor the TPS database in real time for all employees making outbound calls.  A short message will play to advise the agent that the number that they are calling is a TPS registered number, and then give them the option of hanging up the call or continuing with it if they have gained explicit permission from the customer.
This feature can reassure call centres that they are sticking to the very stringent rules that govern this industry, and helps to avoid some hefty fines in the process.  With call recording , call centre monitoring, call queuing  and real time stats available to you, there really has never been a better time to switch to the cloud.