The benefits of using business numbers when your workforce has to work from home
At Direct Numbers our virtual business phone numbers offer a variety of benefits to businesses that have a workforce working from home or remotely. Virtual phone numbers are also a great tool for disaster recovery – what would happen if your office building was in lockdown or could not be accessed? What happens to your all important customer calls? The key would be to keep your workforce and customers connected.
With our remote working solutions your main contact number be it a 0800 freephone, 03 or geographic number can be changed to route away from your office phones out to your workforce. Change the destination numbers in real time using our online number management tool. Your customer calls could be directed to employee mobiles, different office locations, phone answering services, audio announcements etc.
Example case study: A small call centre business with a workforce of 10 employees is not able to access their office block. Disaster recovery measures ensures all staff have backup laptops to access emails and work platforms. Staff have been informed to work remotely from home. The business has a number of 03 and 0800 numbers which route their customer calls. Virtual numbers are amended so that:
Inbound customer calls routed to remote workforce to receive calls on mobiles or softphones on laptops. Routing can be set up in a variation of ways – hunt groups, multi out dial etc.
Call queuing enabled to handle long call answering times with announcement messages apologising for the longer hold times and advising of office closure.
Call whispers enabled on inbound customer calls to your staff so they know it's a work call and how to answer the call.
Manage and monitor your calls in real time using our online management tool – see how many calls are coming, call queue dashboard, which staff are getting the calls.
Voicemail to Email: Customer voicemails from missed or out of hours calls are emailed to the correct team so they can be listened to and called back.
Enable call recording so management are able to monitor offsite calls.
Set up audio conferencing so your workforce can communicate with the whole team through a conference call.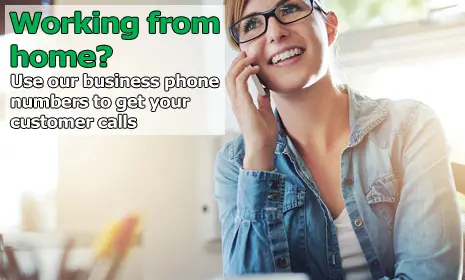 Virtual numbers and remote working benefits
Redirect your customer calls quickly

Never miss a customer call.

Value for money

Call queuing, voicemail to Email, time of day routing.

Call handling software

No kit or maintenance needed.

Resilience

Hosted on a Tier 1 telecom network for reliability.

Disaster recovery

Fall back measures for your customer calls.

Flexible Contracts

30 day rolling contracts.

Online management

Manage and monitor your work calls.

Mobile

Employee's mobile becomes their work extension.